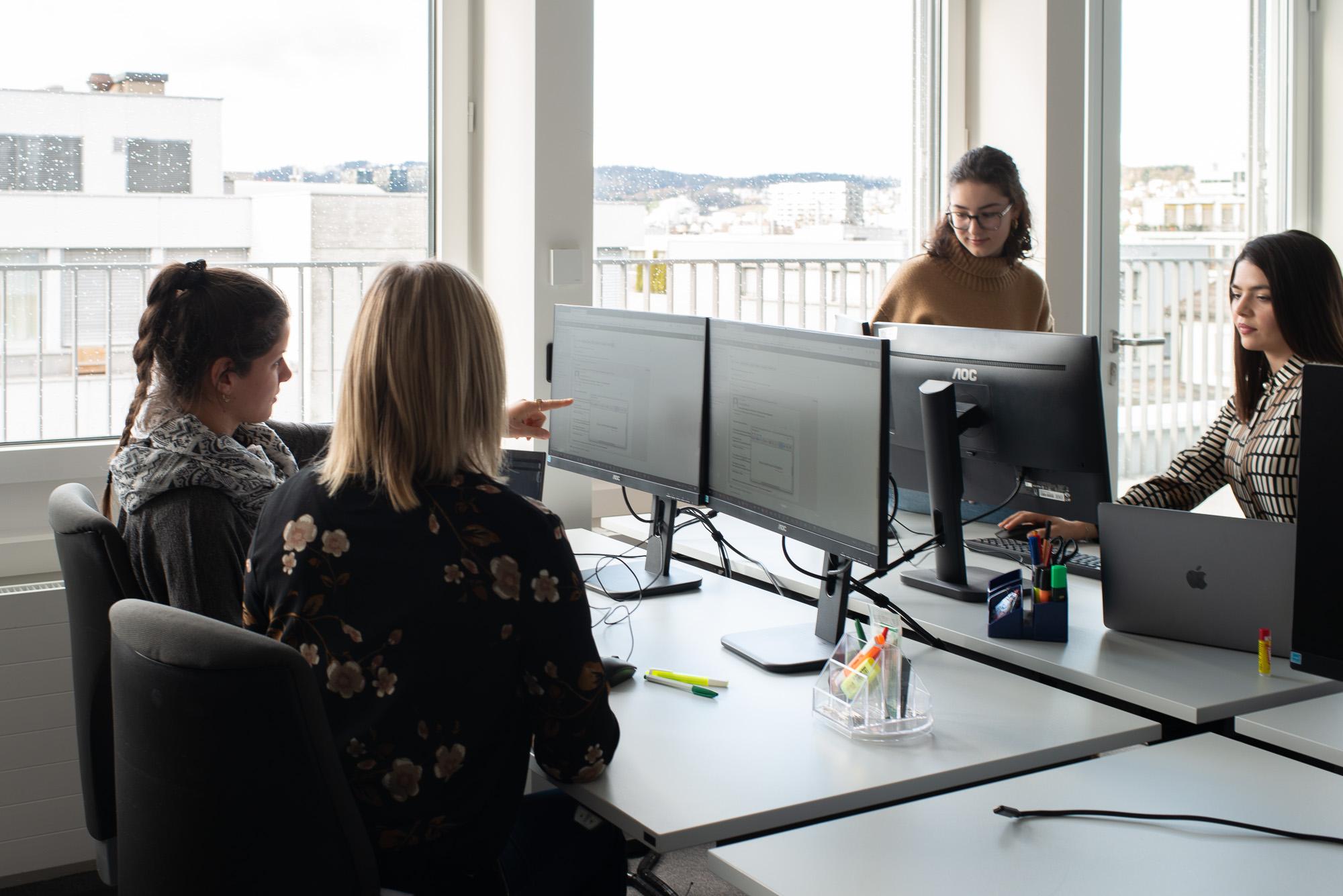 Home
Business Solutions
Mosaic Intelligent Information Management
Mosaic: our framework and "accelerator" for your eDossier and workflow front end
Mosaic: our framework and "accelerator" for your eDossier and workflow front end.
ELCA Mosaic, the framework for intelligent information management (IIM) front ends, includes a service layer and internal data storage. It runs alongside your existing IIM/ECM infrastructure to integrate it and expand its functionality, and is cloud-ready.
With Mosaic, ELCA is offering an accelerator for your lean and modern business web applications such as eDossier (DMS front end) and eInbox (workflow and mail inbox front end). Since it reuses tried and tested modules that are constantly being maintained and enhanced, it is the ideal combination of project development and product purchase. It gives you a client that is tailored to your needs and focuses on optimal user friendliness for maximum efficiency and performance.
For the front end, ELCA Mosaic provides modules based on modern technologies to construct a personalised web client tailored to your needs.
For the back end of the client, Mosaic contains a service layer with integral connections to your content systems. This guarantees a standardised service for the front end. Mosaic has pre-existing functionality to integrate it with various content systems.
The benefits of using ELCA Mosaic
Compared with a one-off solution, you benefit from the accelerator effect – many modules already exist and can be used in your solution. The "project extension" feature does not modify existing code, but instead enhances or overrides it.
Another major benefit is software maintenance. ELCA Mosaic minimises the risk, ensuring upgrade compatibility and enabling new features to be added. So the client and the technology are always state-of-the-art.
Compared with a configurable off-the-shelf solution, you benefit from far more flexibility during implementation. You have a user administration function that is tailored to meet your needs and provides a high degree of user-friendliness and efficiency. This is also reflected in the client's performance:
higher "perceived performance" because the click paths are shorter (increased user-friendliness)
preload effect because the click paths are predictable and the system can load data even before the user has clicked (e.g. scroll function between documents)
higher effective performance because the client has been developed in a streamlined manner – especially compared with standard clients from product manufacturers, which have to be configured and for which this configuration often has to be interpreted at runtime.
Areas of application and industries
Mosaic front ends – tailored to suit customers – are used in various industries and for diverse areas of application. Current examples include banking and finance, health insurance and property management.
"For years now, the ELCA team has been supporting us in our digitalisation programme and ECM strategy. By migrating to ELCA eDossier as an archiving and document management solution, we were able not only to reduce our operating costs, but also benefit from a modern, flexible and open system. Thanks to its underlying in-house products (eDossier Mosaic for the user interface and QDB for interfaces), ELCA is able to react very flexibly and individually to diverse needs. It has given us ongoing advice with our requirements analysis, implemented functionality promptly in all cases and supported operations reliably."
Adrian Fuchs
Senior Business Analyst and Product Owner- Business Management/ Team Open Banking at Esprit Netzwerk (network of 26 regional Swiss banks)
ELCA Mosaic's different instances and modules
The following modules are based on the ELCA Mosaic Framework: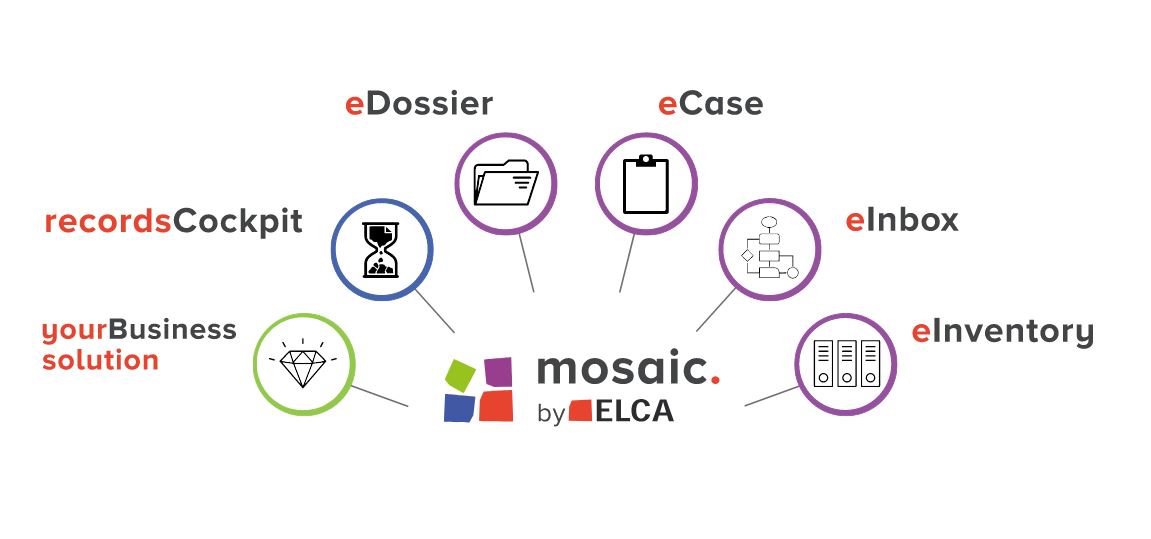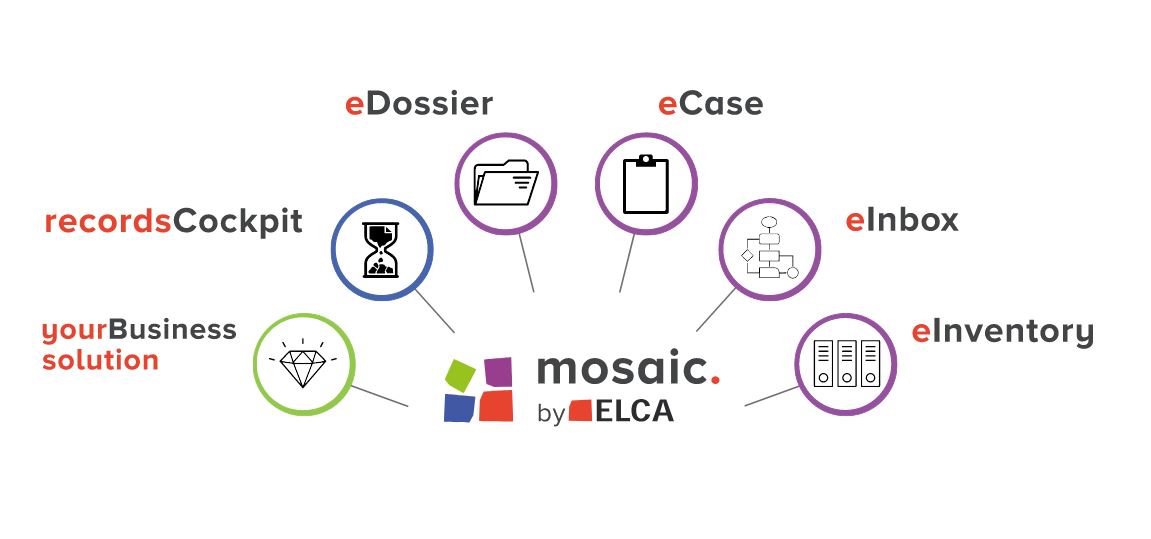 eDossier Mosaic in brief:
Document research, dossier display and case management
Structures and consolidates documents from one or more content systems to form a context-related eDossier with a clear dossier structure (arranged in tabs, displaying all the relevant information on one screen)
Displays additional dossier information from specialised applications
Integral viewer for document display
Intuitive, user-friendly search, filter, sort and display
Individual case files (streamlined case management)
Comment function (for documents and case files)
Provides a 360-degree view of case-related documents by dynamically linking information that belongs together from specialist applications, input management, business process management, customer communication management and electronic archives.
Supplements existing content systems and specialist applications with functions for processing documents and files (drop zone, case processing – document bundling, comment function, multi-export (merge), Excel export, Outlook add-in, Office integration, offline mode, etc.).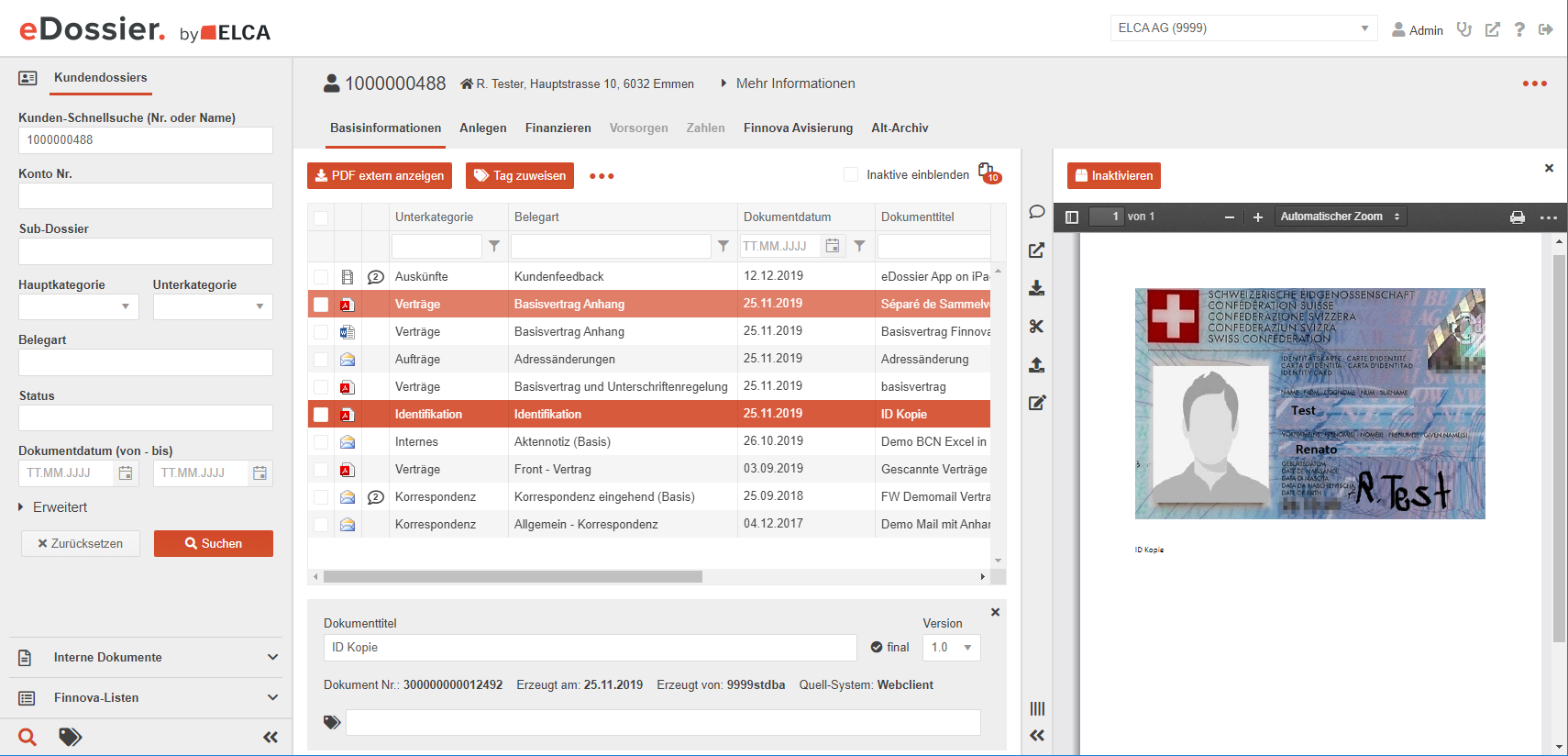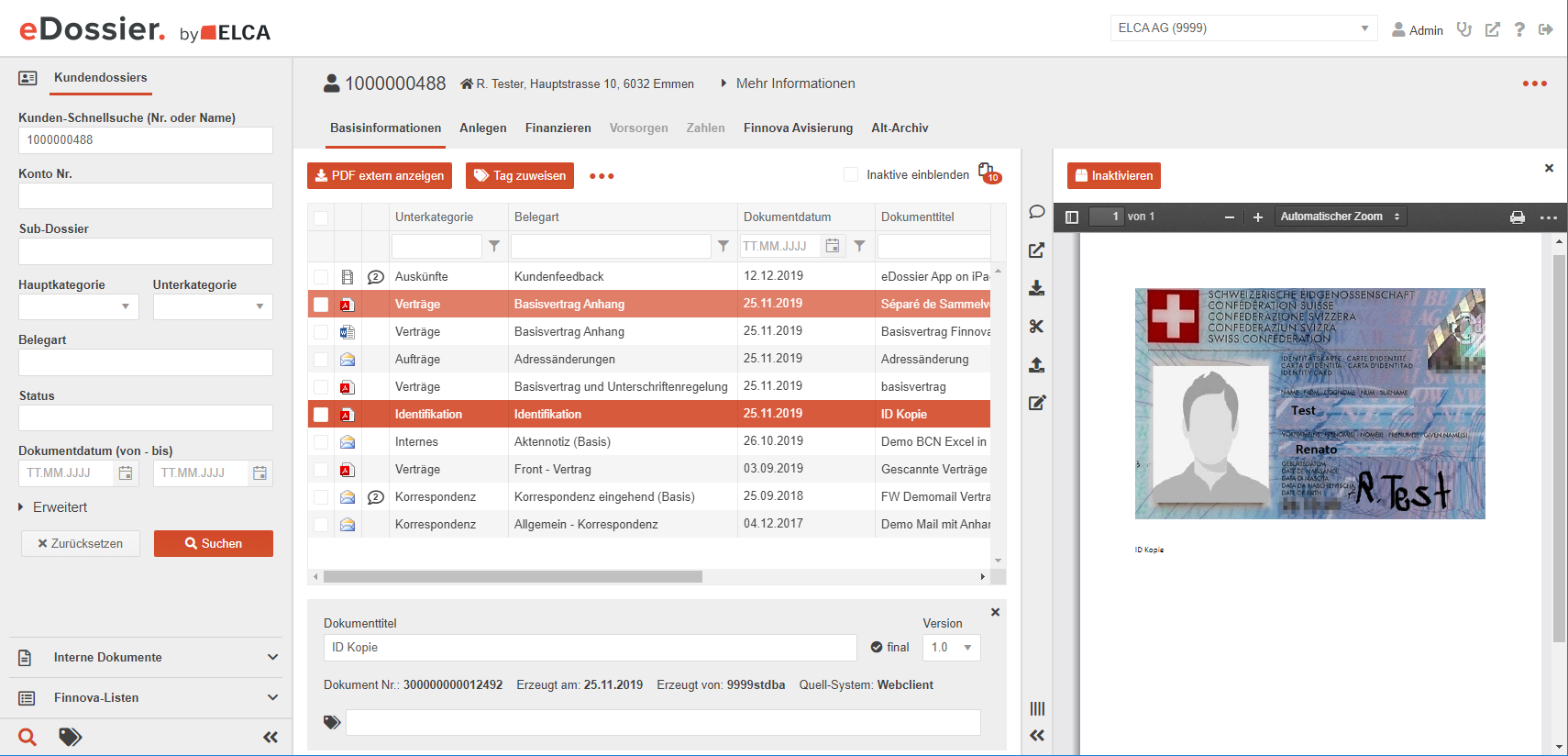 eCase Mosaic in brief:
Case Management is articulated around a case centric view (instead of a document centric view)
Cases can be linked to a dossier
Cases can be created manually by a user or by interfaces such as an omni channel inbox or ERP for example
Seamless integration with eDossier, including a document preview and an embedded case view within the (customer) dossier
A team inbox, through which any user can take over cases at will
Each case comes with a To Do list, whose tasks are handled on a status basis
To Do list's tasks can be assigned to other users
Includes due date and reminder
Comment functionality
Predefined and configurable case types with predefined to do lists
Searchable overview of all cases of a user or a team. Overview of own tasks etc.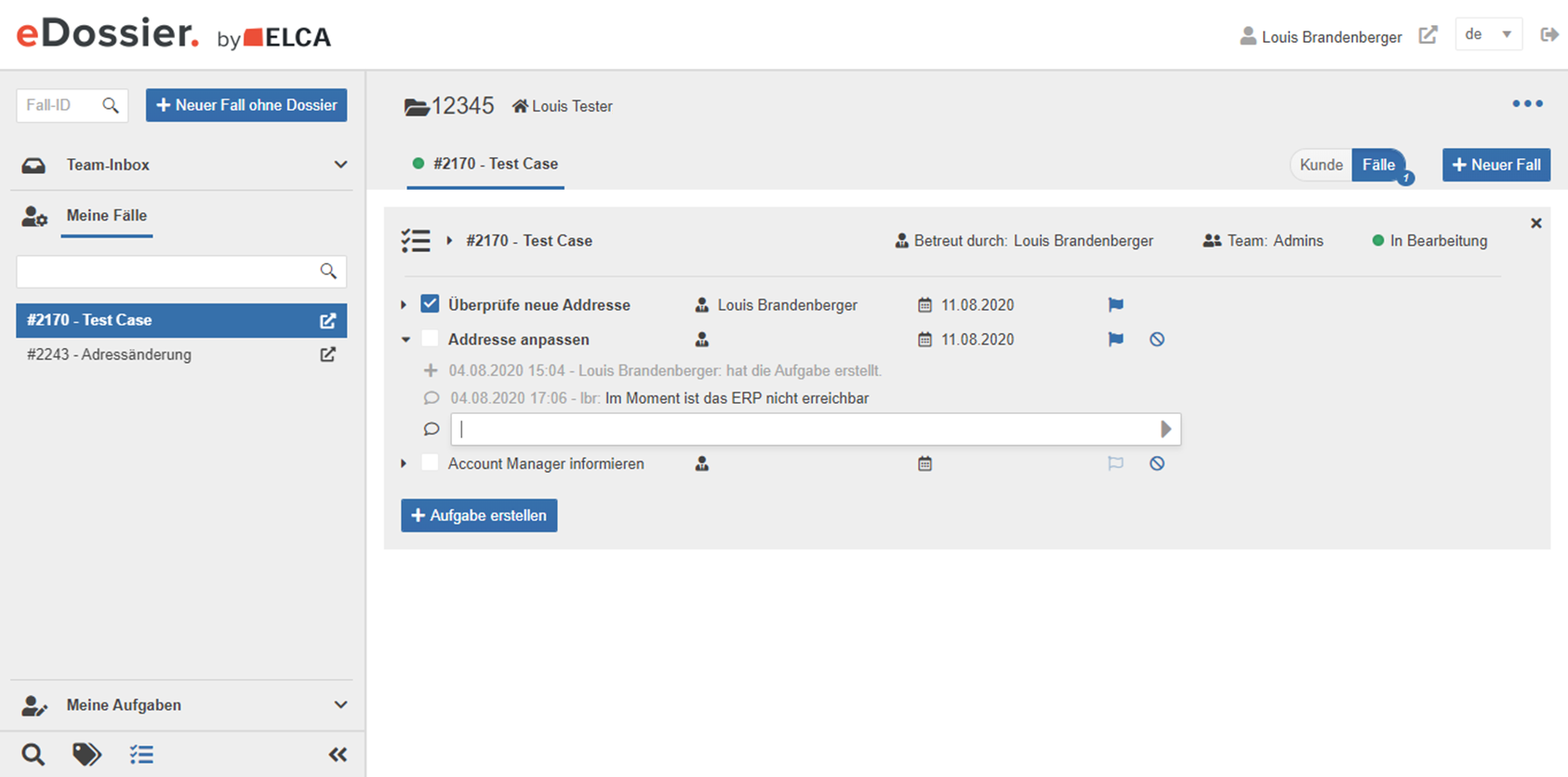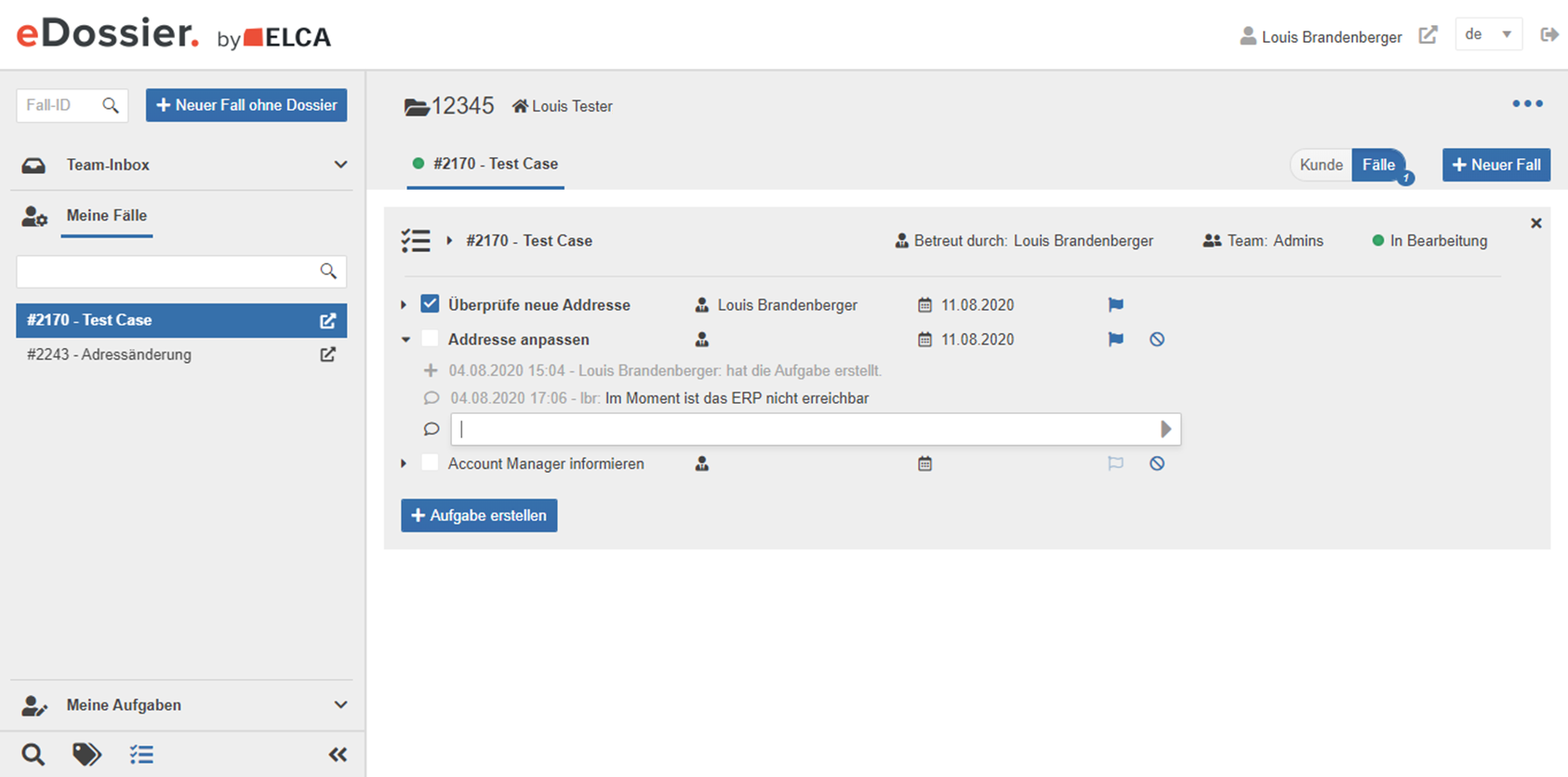 eInbox Mosaic in brief:
Digitalising processes – makes the document flow transparent from input to archive
Builds on and can be integrated into the existing workflow or BPM solution, thereby connecting the digital inbox with the existing infrastructure. Alternatively, an internal state machine can be used for workflow mapping.
Workflow, mail inbox solution and task inbox can be fully integrated into the eDossier client
Document properties can be efficiently completed and modified
Approval/release actions
Documents and document properties can be assigned to downstream systems intuitively, efficiently and independently of location.
Background processing
Approval actions can also be optimised for smartphone use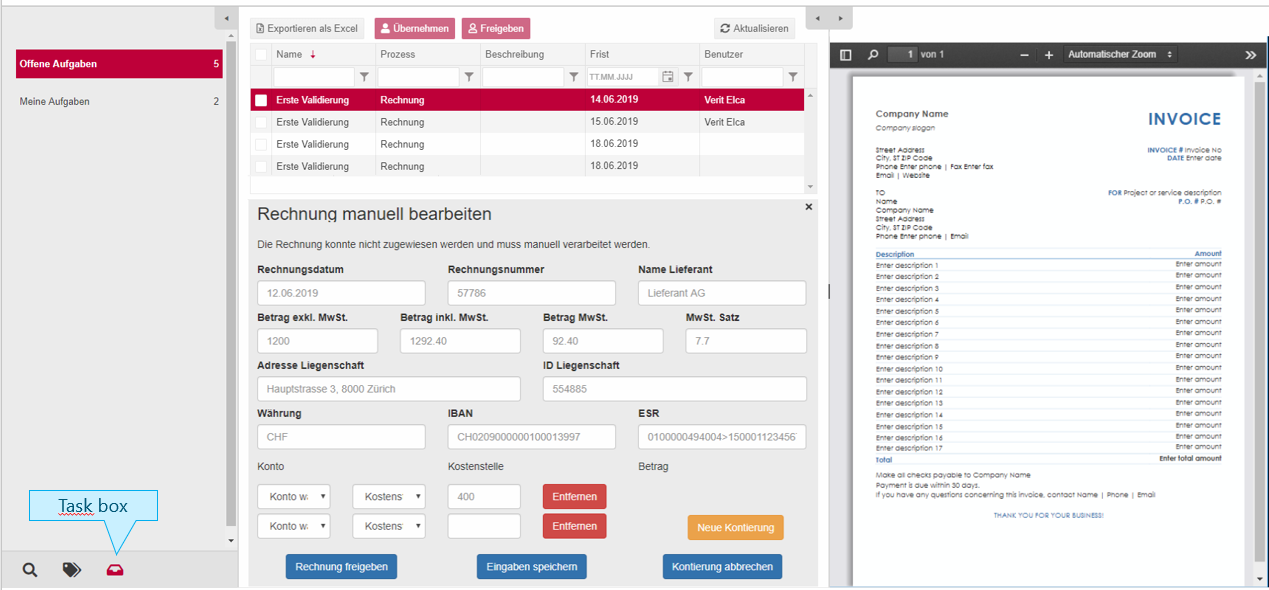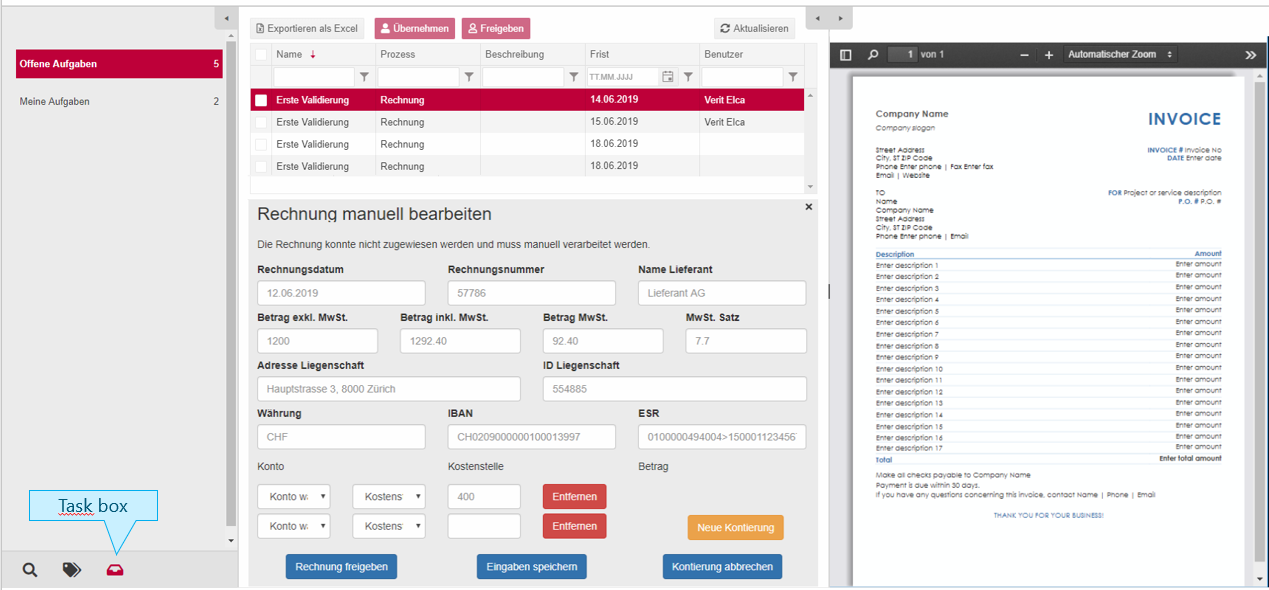 recordsCockpit Mosaic in brief:
Records management tool for managing filing plans. Covers more than just information retention periods. The progressive digitalisation of documents and processes means it's important to use a company-wide filing plan to meet the challenges of changing legislation and guidelines, thereby being able to manage the associated risks better.
Retention periods, legislation and guidelines are managed centrally in a web application.
Business processes and record types are brought together in a single context.
The recordsCockpit supports dossier creation, delivers improved future-proofing and reduces complexity.
The potential for process automation can therefore be more easily exploited.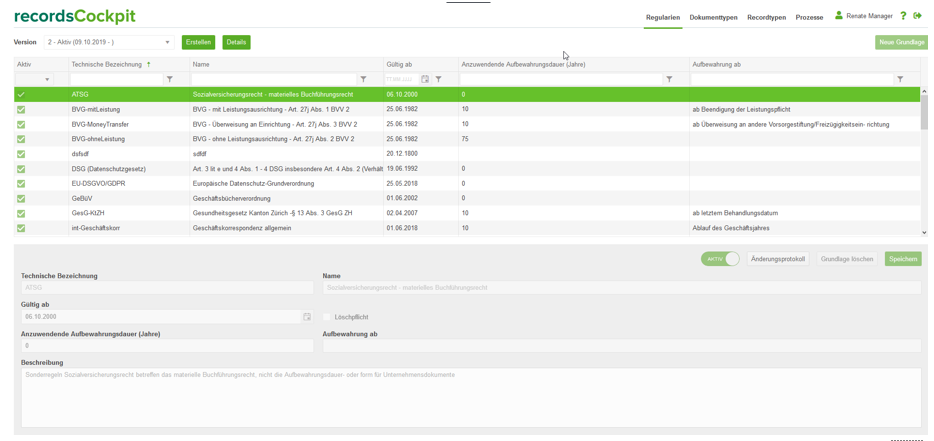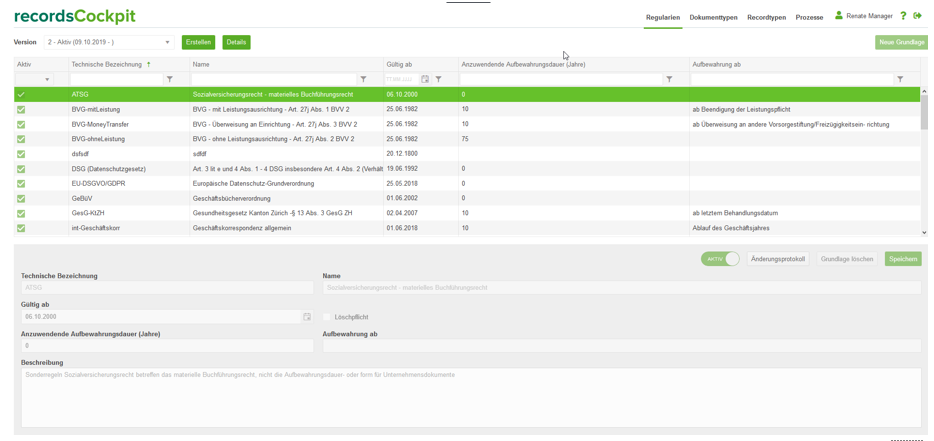 eInventory Mosaic in brief:
eInventory manages your physical archives using modern methods and an attractive, intuitive user interface. (If, despite ongoing digitalisation and a reduction in paper archiving, an archive still exists in which documents or historical artefacts are physically stored.)
Integrated into eDossier and additional peripheral systems
Manages storage locations (multiple sites)
Manages storage containers such as folders, boxes, etc.
Uses barcodes for easy storage
Search, filter and sort functions for stored containers
Storage, loan and research requests
Overview of requests via simple task management