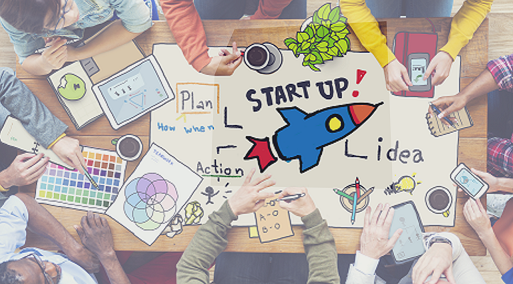 Scaled Startup in Financial Services
From the idea to the successful product
With a constantly changing market, increasing digital transformation and the arrival of new players on the Swiss banking and insurance market, the challenges faced by banks and insurances business models and also by IT are on the rise. An agile approach alone is no longer sufficient. What is needed is a rapid implementation and validation of ideas, flexibility during development, and interdisciplinary teamwork with a customer dialogue.
The ELCA "Scaled Startup" offers a simple, cost-effective way of kick-starting any customer idea and developing it into a successful product.
Speed – kick-start your idea
With a series of intensive, targeted workshops in the form of a bootcamp, we quickly get our teams, customer stakeholders and business representatives into the right mindset. Defining the minimum viable product (MVP) is just as important as developing business hypotheses, which should be reviewed in the next phase.
Reliability – fail fast & learn
Business hypotheses from the MVP must be developed and validated as rapidly as possible in order to verify the future business model. With its lean startup approach, ELCA offers optimum assistance during the development phase (Build) and while measuring hypotheses and ideas (Measure). We provide support using a variety of methods for gathering feedback and subsequently evaluating and fine-tuning the MVP (Learn):
Closed user group testing
Friends & family testing
Demos
External usability review
Crowd testing
Quality – increase quality
If a business model proves viable, our developers, architects and experts ensure that the MVP is realized using an agile development cycle and meets the stability and quality requirements for a marketable product. The ELCA shoring platform may also be used to guarantee a rapid development phase.
Growth – scale up!
If confidence is established in a long-term market solution, work can start on integrating the product into the company's value chain in order to exploit further synergies and cost optimization potential. This is where ELCA draws on its many years of experience with integration projects and provides optimum support for your venture.