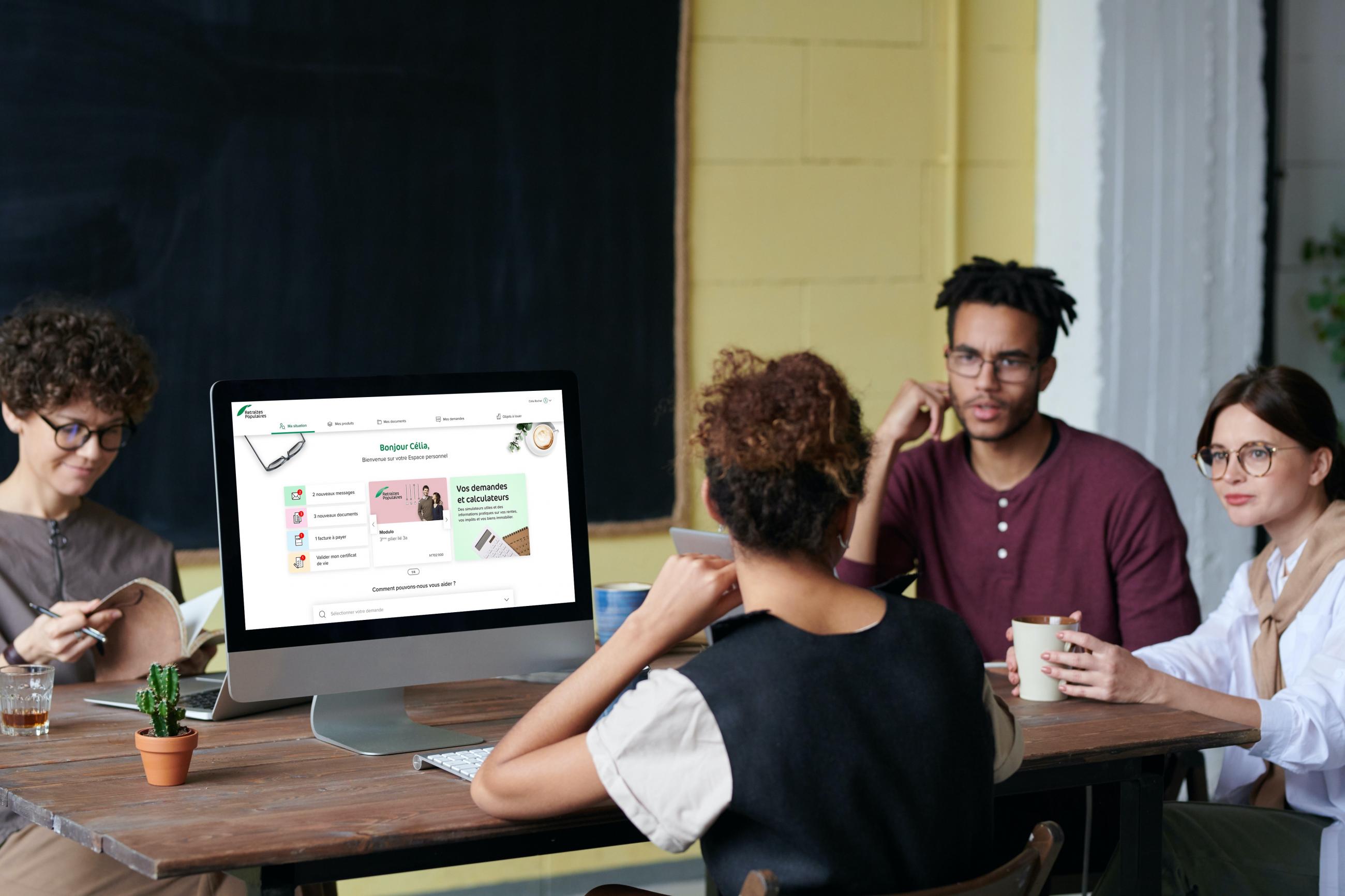 Self-Service Portal
Based on studies of more than 8,000 customer journeys, Gartner finds that 70% of customers are using self-service channels at some point in their resolution journey.
If your corporate website or mobile application is focused on your company & products presentation to generate awareness & engagement, a self-services portal aims to provide one or several key features empowering your end-users to access to your services.
Convinced that self-service portals have become a cornerstone in attracting prospective customers and the customer's relationship with brands, ELCA Digital Agency has developed a dedicated offer and approach combining several ELCA competencies meeting the key factors for the success of your future portal.
ELCA Digital Agency accompanies you with consulting services for design, implementation, and operation. We are helping you to generate incremental revenues, reduce cost of service and increase your customers' satisfaction and loyalty sustainably.
What are we talking about?
A self-service portal is a digital touchpoint, web, mobile or even based on voice, providing personalized information, content, data and self-service / self-help features.
This combination of content & features will empower end-users or customers to fulfill all or part of a process linked to your company or product, integrated with your enterprise systems, such as ERP.
Based on this large definition, we consider that the Self-Service Portal family federates:
eBanking & eInsurance
Customer Portal
Client On-Boarding Digitization
Members/Community Portal
eCommerce/eShops/Web-Shops B2B & B2C
Service Desk Portal
Employee Portal
Citizens / Government Portal (eGov)
… And even some corporate websites proposing one or several key features meeting this Self-Service Portal definition.
Self-Service Portals benefits
Self-Service Portal serves different strategic objectives for your company or brands:
Optimizing customer service efficiency and reduce cost of operations by enabling customers finding valuable information or resolving issues through online channels
Improving customer satisfaction & loyalty by providing always-on services and consistent omnichannel experience
Stimulating clients with targeted recommendations, actions, and attractive upselling offers, increasing the total customer value
Accelerating digital transformation of your organization & secure processes through digitization
Some concrete typical use cases
Based on our experience on Self-Service Portal in different industry we have been able to capitalize on the most common typical use cases:
Access personal information: Purchase & invoice, exclusive offers & customer loyalty program, after-sales request status & history,
Manage personal information: Contact information, billing information, preferences, organize your relocation (i.e. energy & telecom portal)
Full customer self-service

On-boarding process based on 2-factor authentication, including with ID-check or even with live video process (i.e. for eBanking)
Aftersales request: Open, access and close customer service request
Simulations based on personal and contextual information (i.e. a bank simulator for mortgages)

eCommerce B2B: recurring order, specific conditions, product catalog & prices based on a frame contract (stored in an ERP or legacy system)
Key success factors
Showing and demonstrating the business value of the Self-Service Portal is key success factor of your project
Relevance and reliability: A successful Self-Service Portal answer the most relevant end-user pains. The information found on the portal must be trustworthy and credible.
Time to market: Proposing and exposing new services and products fast by leveraging the online service-channel to clients.
User experience & acceptance: Any Self-Service Portal is not just about having the consumer performing the tasks traditionally done by a service desk agent. The success is about delivering a positive consumer experience via an easy-to-use interface.
Data security and privacy: Ensuring data security for customers, so that they always have a good feeling of anonymity and the customer relationship is strengthened as a result.
Future proof ready: The maintainability and scalability are key success factor to secure your investment in the future.
ELCA services & added value
In the context of a Self-Service Portal ELCA support in different ways:
Business process analysis: To identify the key features & process providing value to end users in a timely manner. ELCA Lean Start Up approach (link) is addressing such challenges.
UX & UI expertise: Define & implement a seamless experience on all your channels, focusing on the Self-Service usability and providing a consistent UI with your other on- & offline touchpoints.
IT architecture: Choose the right design and implement the right technologies to support your omnichannel strategy and integration needs with operational and analytical systems. Ensure the highest standards in flexibility, usability, performance, availability, and security.
Leverage innovation: Anticipate future use cases and new capabilities provided by technologies (AI, Voice channel, Chatbot, personalization,…) 
What technology behind?
Depending on your business context & existing IT ecosystem, several IT approaches are possible. Based on our IT experience, ELCA accompanies its clients to identify and evaluate the most relevant ecosystem.
Do you need a content management system (CMS)? or custom development (Java .Net) with a custom frond end (React JS, Angular, Vue JS?)
Shall we go with a headless architecture?
With which systems will the portal be integrated (CRM, ERP, legacy)?
Should you leverage on cloud capabilities?
Do you need strong authentication solution (multi-factors solution such as TrustID?
Should we include payment service capability (integration with PSP)?
Can an artificial intelligence technology help to better investigate on client issues and to propose the most appropriate solution, recommended action or even additional product to sell (AI/BI/ML technologies)?
Is an embedded chat bot a possibility to automate service dialogues and improving the overall customer service experience?
Based on your business needs, it is our work to answer these questions in collaboration with your IT experts!
Christophe Junod
Self-Service Portal Expert
Introducing Christophe Junod, our Self-Service Portal Expert