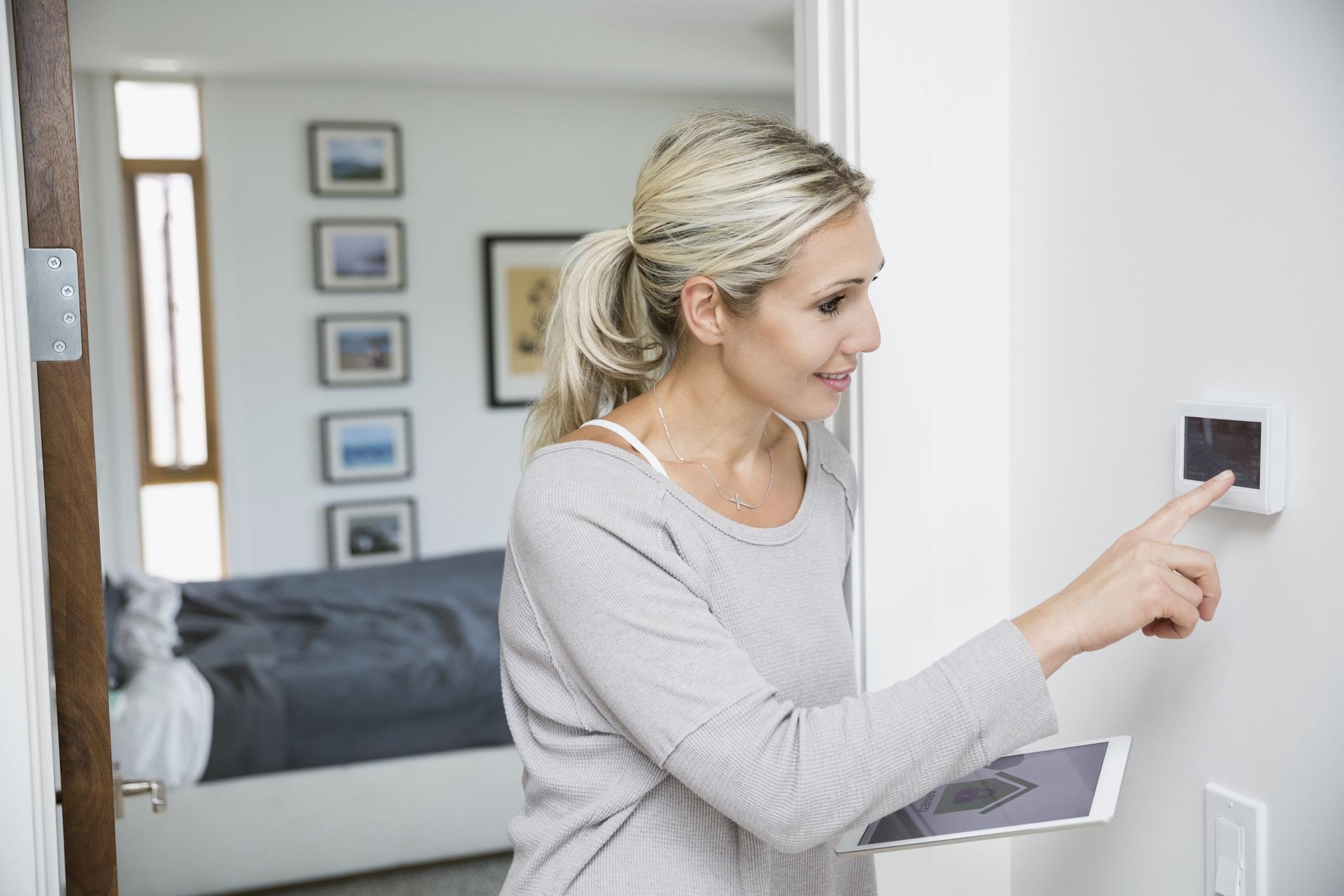 CRM Core Model Energy
The preconfigured customer relationship management solution for the needs of energy players with IS-E/Innoslovenergy.
ELCA's CRM Core Model Energy offers a pre-configured solution for optimizing customer relationship management and streamlining operational efficiency for Swiss players in the energy sector.
Faced with the challenges of climate change, and the predicted rise in energy costs, consumers are increasingly keen to adopt an eco-responsible approach to their energy needs. They want to control their energy consumption which includes moving towards the use of renewable energies to reduce their carbon footprint. With the arrival of smart meters, consumers expect new tools and services to help them better manage their consumption (customer portal, mobile app, advice, comparison, prediction, etc.).
 
Consumers are very active, generating a sharp increase in demand from distributors, and competition is fierce in the services market for photovoltaic panels, heat pumps, recharging stations, shared remote heating and battery storage. Players find themselves faced with a growing mass of demand for offers that are all the more complex to manage because they integrate a variety of products and services for the same customer.
 
What's more, a consumer is no longer considered a subscriber, but a customer, even if the opening up of the electricity market has now been "buried" by the SFOE. Customer Service is now the entry point to a commercial relationship with strong economic potential and is becoming an essential showcase for the distributor.

How can we improve customer satisfaction and loyalty? How can we provide value-added service? How can we keep up with the competition?
 
In response to these new challenges and backed by its in-depth knowledge and experience of the energy sector for over 15 years, ELCA offers an advanced customer relationship management solution dedicated to the energy sector.
The CRM Core Model Energy is a flexible, fully adaptable solution made up of various modules that can be deployed progressively at the desired speed. It is aimed at the Customer Service, Call Center, Energy Sales and Services, Marketing and Field Technicians teams, as well as the managers who oversee these activities. The various modules enable the different players to interact using the same information with different processes and value chains. Departments can, thus, collaborate through the Energy Core Model and bring their own added value to the data through their own processes.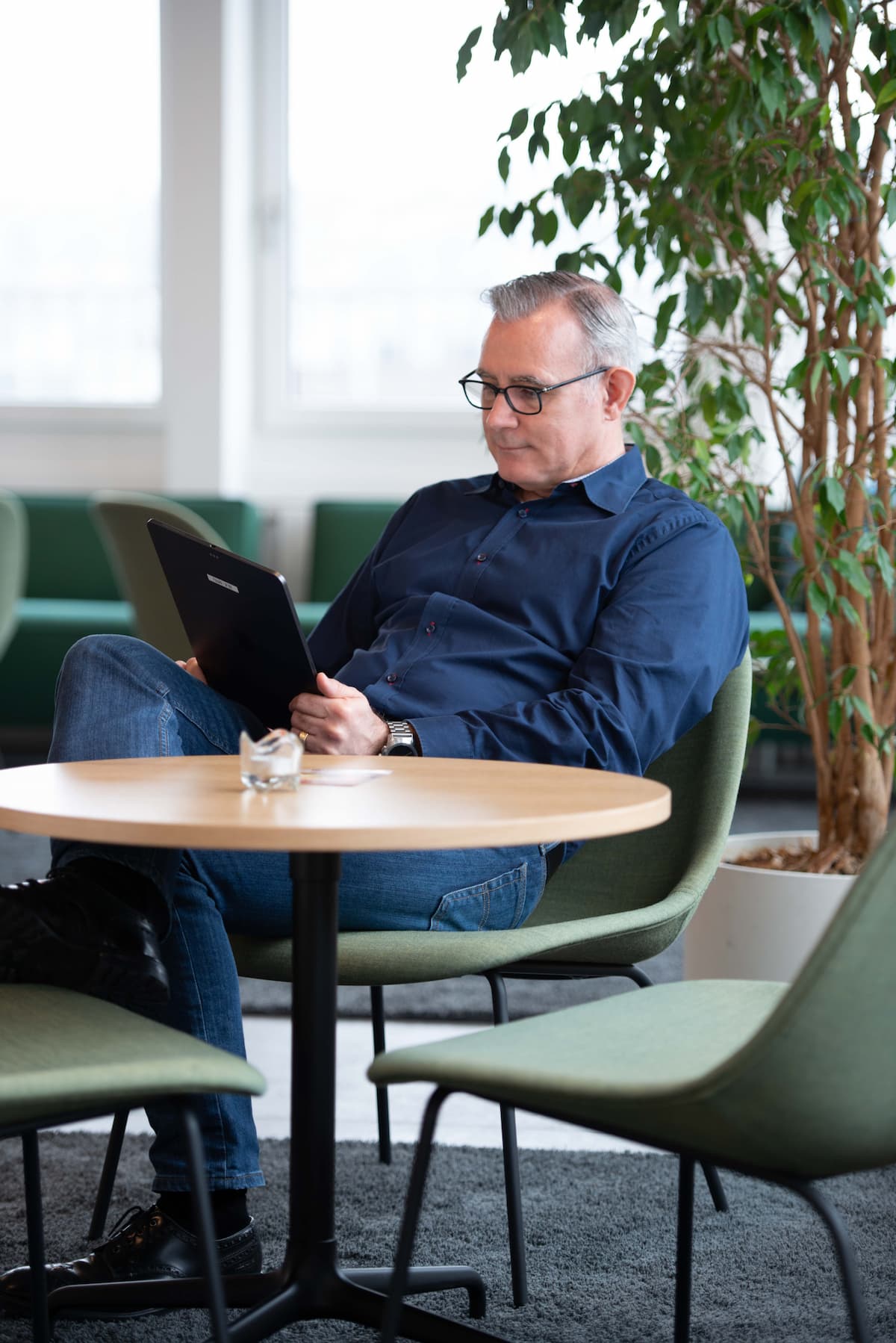 Functionalities are divided into 6 mutually integrated modules:
360 View provides a consolidated multi-fluid view (electricity, gas, water, CAD, multimedia) of the B2B or B2C customer, including contracts, products and services sold (PV, PAC, Kiosks, energy audits, etc.), invoices, consumption, payments and solvency. This module ensures that customer data quality is maintained at all times.
Target users: Customer Service/Call Center, Sales Department, Marketing Department
The solution is based on Microsoft Dynamics 365 in SaaS mode, hosted in the Azure Switzerland cloud, and brings together best practices pre-packaged for the energy world to cover 80% of Customer Relationship Management functional requirements.
The solution offers standard integration with Innosolvenergie (ISE), the most widely used ERP in Switzerland among industry players, and Abacus or Proconcept.
 
Based on a state-of-the-art Azure architecture, it offers an open integration layer enabling interfacing with internal company resources (Telephony, Cadastre, EDM, MDM, etc.).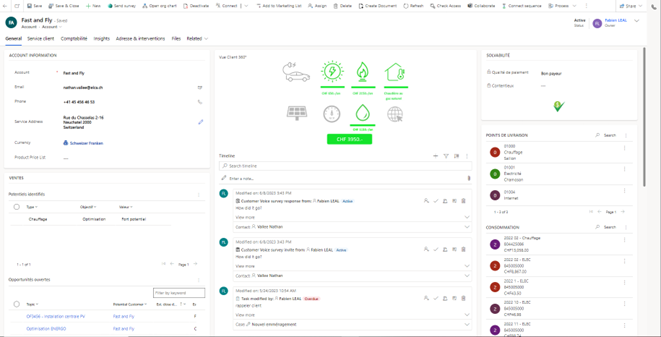 Example of a multi-flow customer view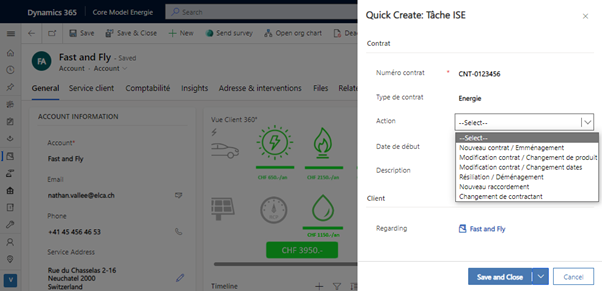 Example of a request initiated by the Call Center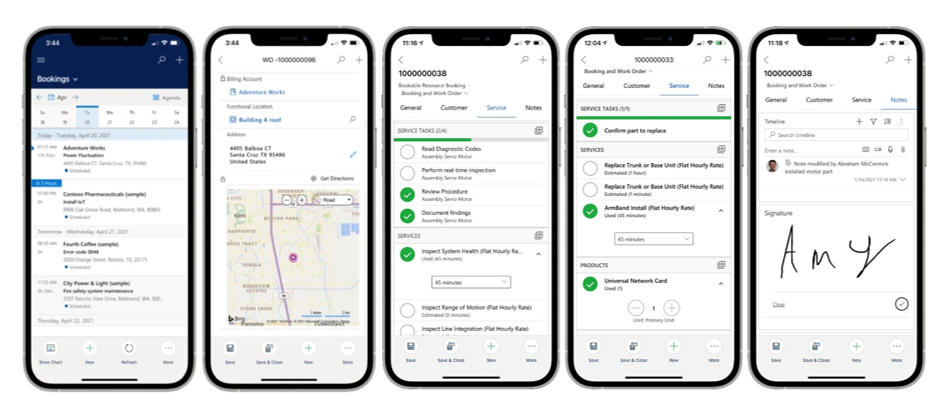 Mobile field technician application including work order, task list, intervention report and customer acceptance
Why ELCA ?
ELCA's CRM Core Model Energy is a "gas pedal" bringing together all the best practices in the Swiss energy sector.
ELCA's teams offer comprehensive local support, thanks to a team of experts dedicated to the success of your project. (Skills transfer, Cloud, D356, Portal, data recovery, testing, etc.)