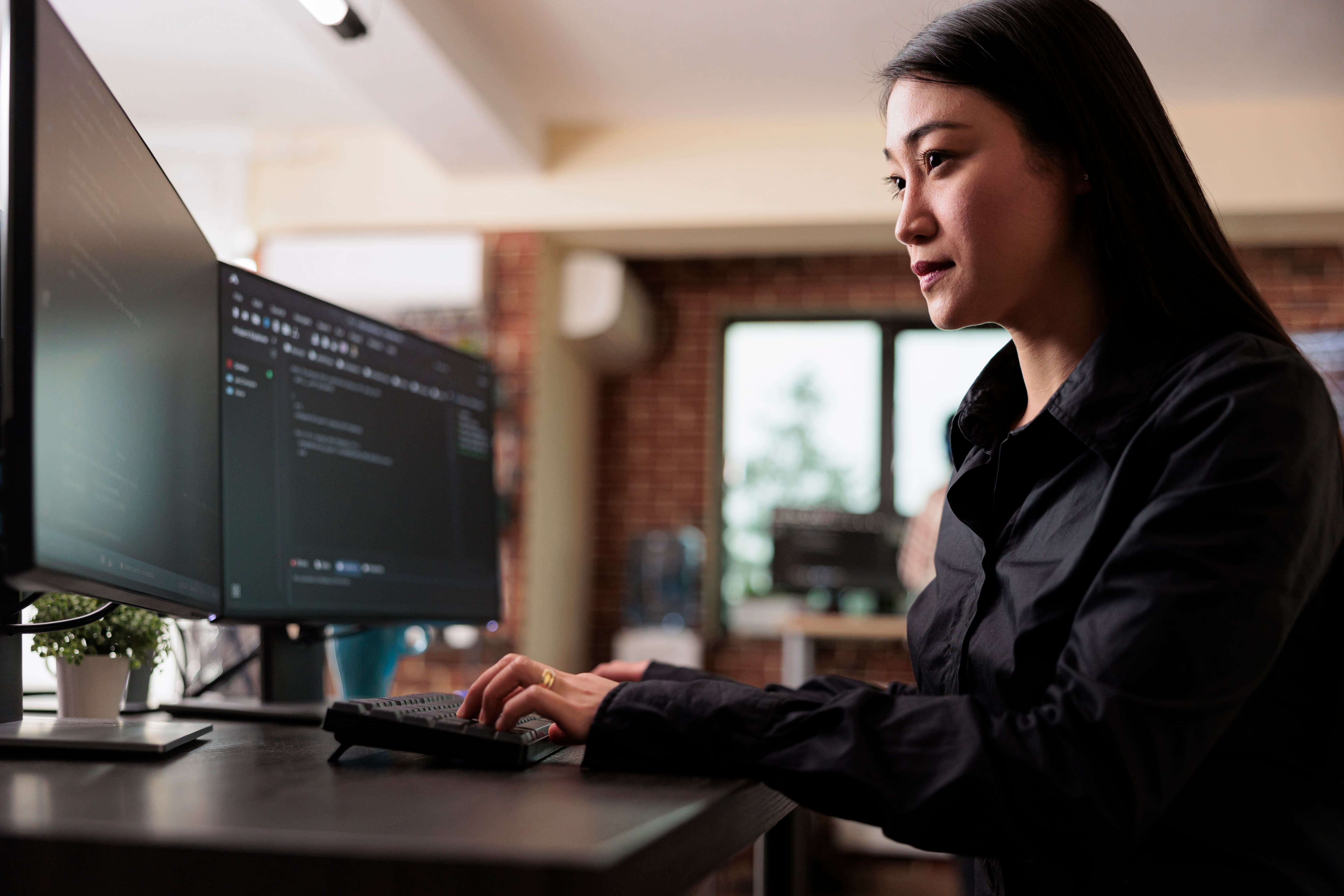 eCase
eCase Mosaic enables uncomplicated digitisation of your processes.
Thanks to the low-threshold entry via continuous task definition by the business users, there is no need for time-consuming specification phases.

TEAM-INBOX
Cases can be transferred from the team inbox for processing

TASKS
Flexible to-do list according to case type or manually added ad hoc. Standard functions such as assignment, deadline, notification, reminder, comment, deputy, etc.

INTEGRATION
Fully integrated with eDossier Mosaic.
Can be integrated with other systems. Open interfaces.
Connection to input management and archive systems.

DASHBOARD
Constant ability to provide up-to-date information on all tasks in the team and on their processing status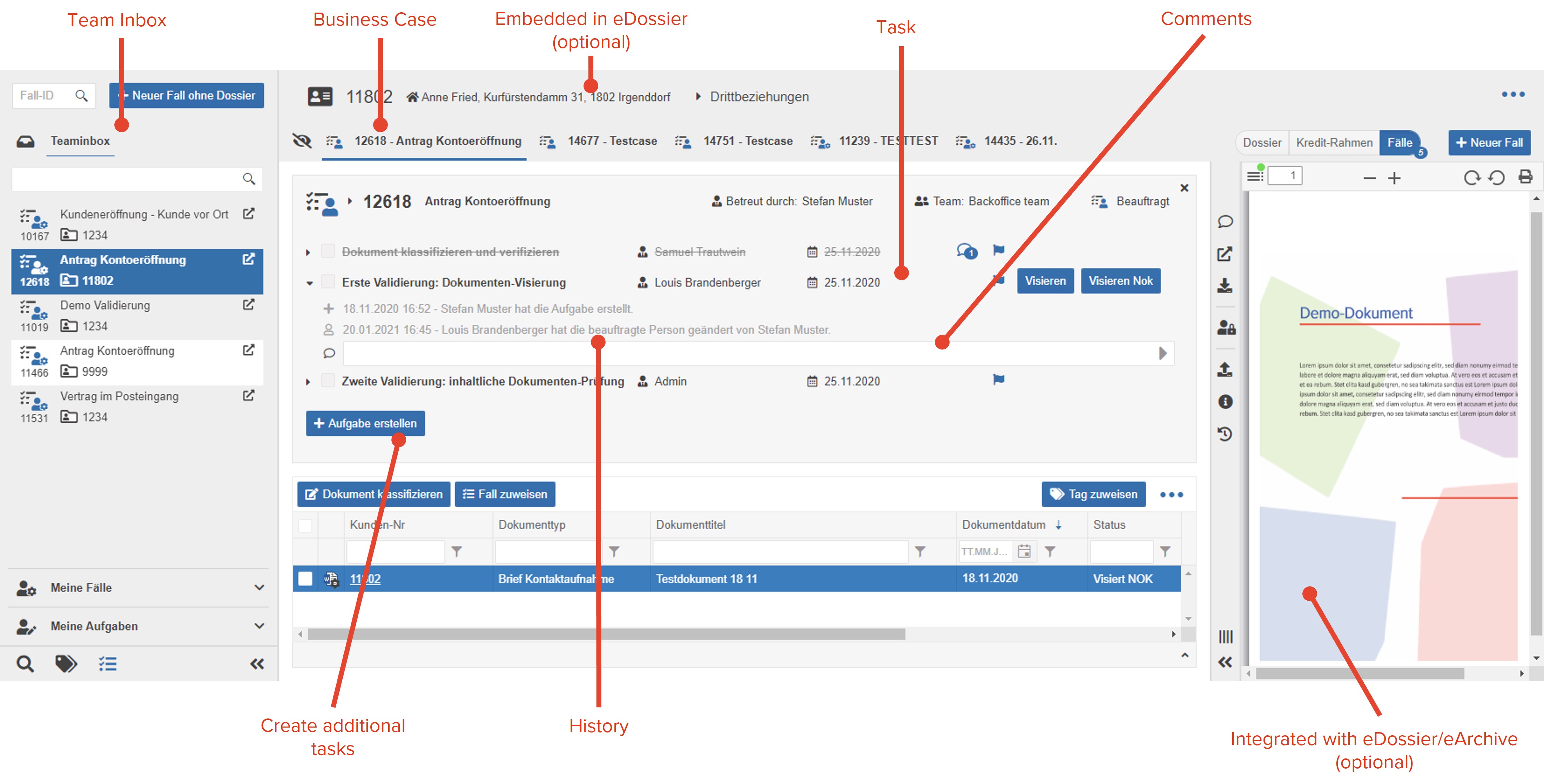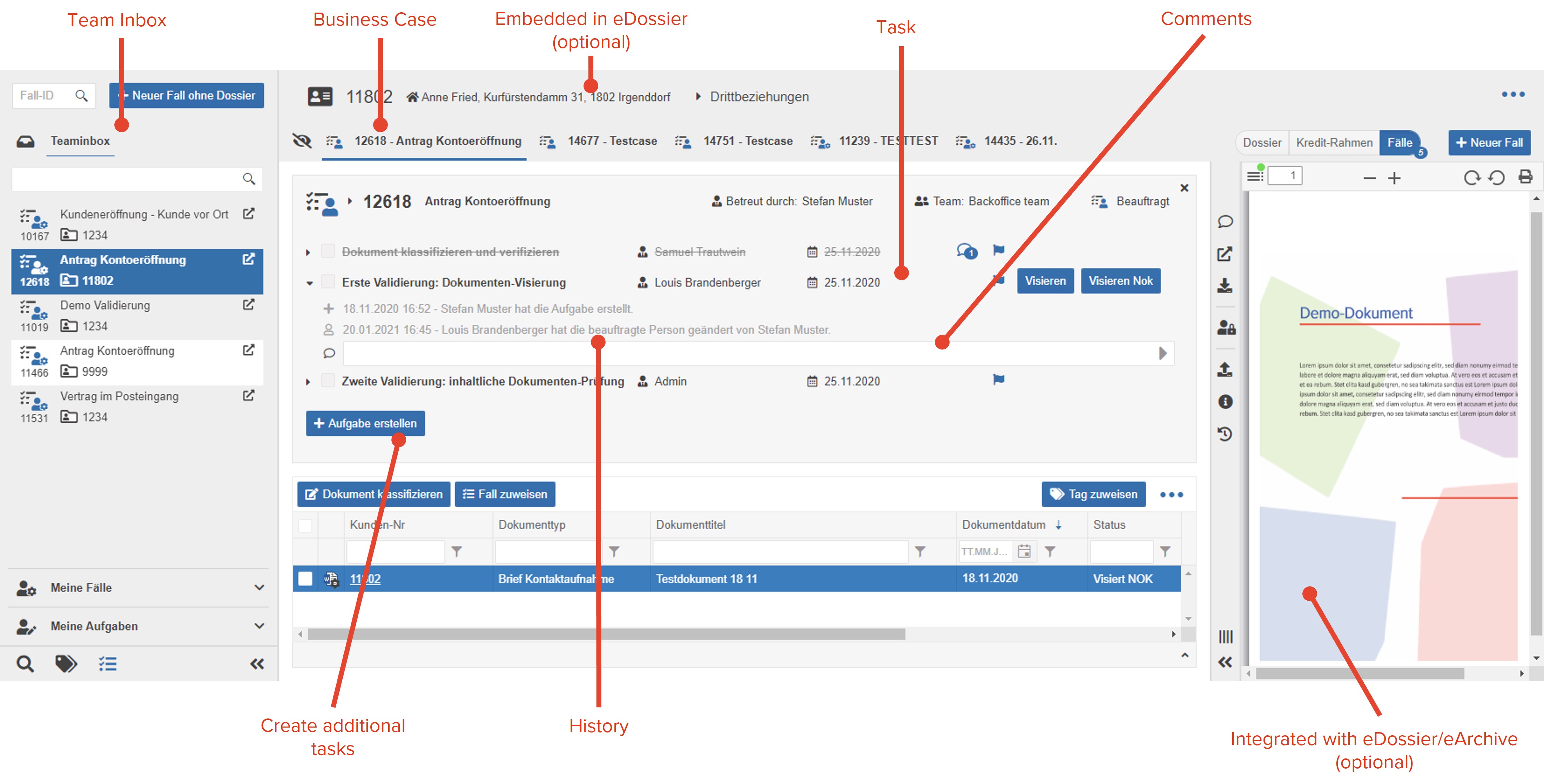 eDossier Integration
With eDossier Mosaic, the dossiers and documents can be displayed and edited. This also manages the life cycle of the dossiers (from creation/editing, release to inactivation of the business case) and the documents.
With eCase Mosaic, case handling is integrated with the eDossier solution in a lean way, where cases are not document-centric, but business and task-centric. Business cases can be embedded in a dossier.
Team Inbox
Staff members take over the cases from the team inbox, so it is clear who is in charge of the case.
Notifications are sent on the calculated/given deadlines (also to any deputies).
Tasks & Case Management
Simply start with generic cases without predefined tasks. 
Immediately, work can be done digitally, with the tasks to be executed being entered manually. 
The business experts can then define the case templates with predefined tasks and deadlines in advance during productive operation to further increase efficiency. 
Additional tasks can be added any time to each case by any user ad hoc, or tasks can be marked as obsolete. 
Tasks are marked as completed via a checkbox. The comment function can be used for communication and documentation. 
Further optimisations such as interfaces to peripheral systems can be integrated by our ELCA experts. Tasks can also be stored with a function, e.g. for archiving the document or for transferring information to an ERP or CRM.
Business Packages
Following ready to use solutions for eCase are available ans simplify the digital transformation:
#mailroom: Mail inbox solution for documents from different sources. Capturing and classification are done in the input management solution. Afterwards the documents are processes in the team inboxes of eCase Mosaic.
#mailroom invoice: Approval process for invoices
simple and optimized for the SME market.
#immo: Ready to use Dossiers and case templates for real estate management.
Louis Brandenberger
Lead Product Manager
Introducing Louis Brandenberger, our Lead Manager for MOSIAC IIM Solutions